Pest Control Owasso Oklahoma
Pest Control Owasso Oklahoma
Just a few miles northeast of Tulsa, Oklahoma, sits the beautiful and thriving town of Owasso. Getting its name from the Osage Indians, Owasso means 'end or turnaround.' The Atchison, Topeka, and Santa Fe railroads ended in the area, and the name Owasso seemed fitting.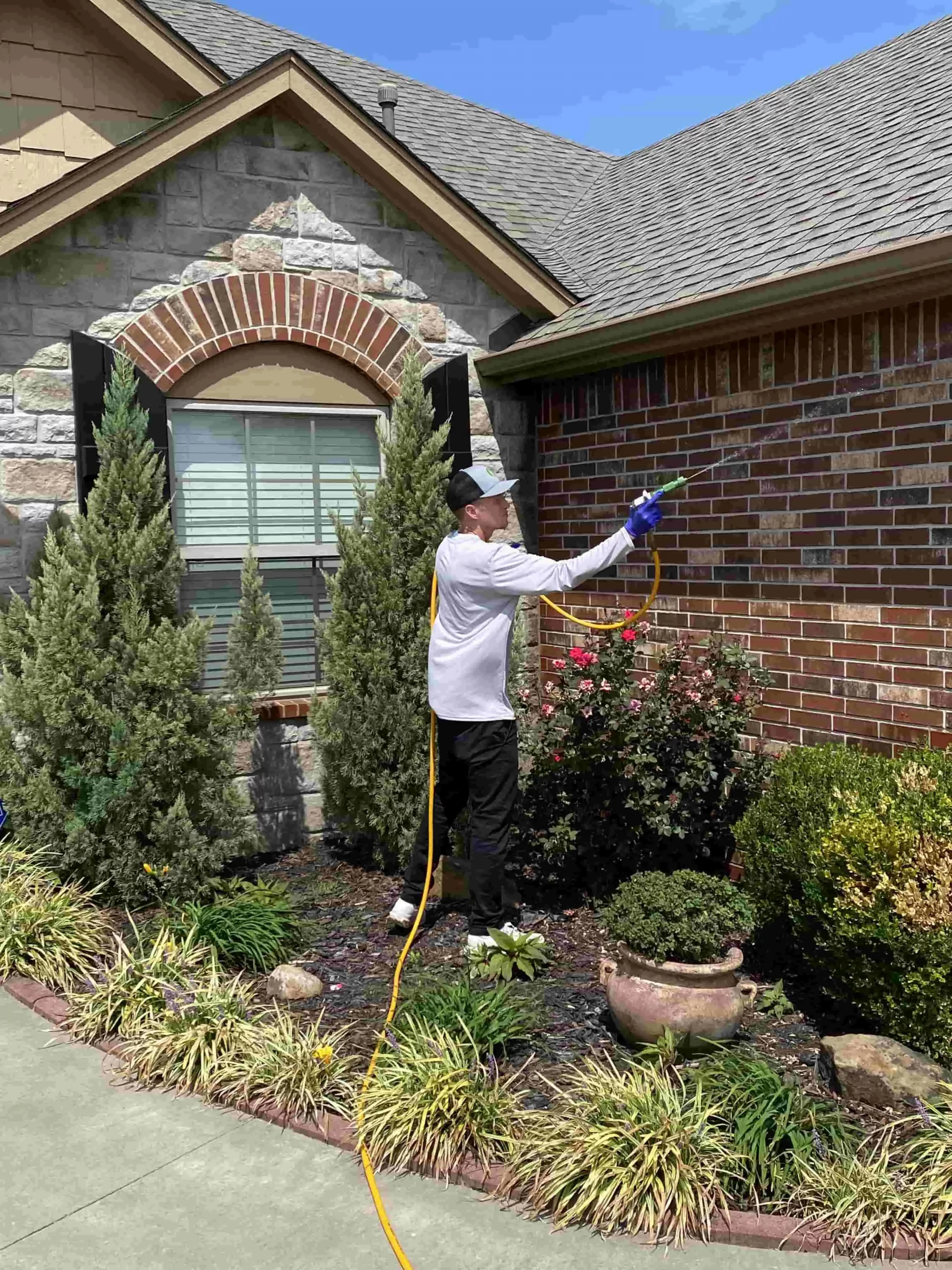 As World War Two was coming to an end, veterans and their families saw Owasso as an area of growth for the aviation industry. This city was labeled the fastest growing city in Oklahoma; during the 1990's it saw a 65 percent growth in population.
Today, Owasso boasts of superior quality of life, good schools, safe and peaceful neighborhoods, and cultural diversity. A visual and performing arts community thrives in the area.
Businesses have found Owasso to have a well-educated and hardworking employee base. The city planners' long-range city strategy has Owasso bringing more industry and economic opportunities to the area.
Thrive Pest Control, in keeping with Owasso's quality lifestyle, has made a promise. Our company will keep the cities homes, businesses, and industry free from annoying and dangerous pests. We make it our business to be educated about all pests that inhabit the area. Our technicians are trained to safely remove all insects, rodents, and arachnids from your property.
SCHEDULE A FREE ESTIMATE TODAY!
Every area of the globe has some annoying pests. Owasso has a variety of vermin that
Thrive Pest Control
can eliminate.
We advise all our clients to be present during these inspections. We understand that you might have a hectic schedule. In that case, we will fully cooperate with you to come for an inspection at your suitable time. But your presence is beneficial because then, our team will be able to show you the points of concern at once and explain to you what would be the best approach for such a situation.
Wasps and Hornets: These flying insects appear in the Spring and stay until the fall's chilly weather. Unfortunately, they hibernate during the winter and reappear when the flowers start to bloom. The preferred avenue is to dispose of them when they first begin to build a nest. Wasps and Hornets construct their nest out of the elements. That generally means somewhere close to home. Thrive Pest Control can remove the nest safely with no damage to your home.
Black Widows and other Spiders:
These creatures do have a positive impact on the environment. Getting rid of the other insects is what they do best. However,
spiders
strike fear in many of us, and ideally, we want them disposed of. The best Pest Control in Owasso is Thrive Pest Control. Our technicians are experts at finding where spiders hide and build their nests.
Bed Bugs: After years of being out of our homes, they have found their way back in. These insects are not lethal, but their bites can cause infection. Thrive Pest Control in Owasso has safe and effective ways to rid your home of bed bugs.
Mice: It has been estimated that if you see remnants of mice in your home, there are at least 35 of them hiding somewhere. Thrive Pest Control Service understand mice and their whereabouts. These rodents need somewhere warm, dry, and close to a food source. Once the mice are gone, our Pest Services will tell you what to do to keep them from coming back.
Residential Pest Control Owasso Oklahoma
Controlling pests is our business, and we are the preferred Pest Control Owasso has to offer. Our company is aware of all the pests this area has. Each insect and rodent have its methods of finding a way into your home. Bed bugs are a problem in every community. With that said, we treat each infestation with our safest, most reliable, and least invasive methods. Our technicians are trained to locate and devise the best plan of action.
This plan will include our solutions and suggestions on what the homeowner must do to prevent further the pests return. This could mean moving the trash can further away from the property. Repairing cracks in the foundation where pests make their entrance. Picking up after a picnic or the purchase of rodent-proof containers might be suggested. One additional proposal could be multiple treatments during the year. Surveying and treating a home may require a trip back to ensure pests are gone and no new ones have come back. We are happy to schedule planned visits after treatments so that you and your family can rest easy. We would be proud to be your go-to pest control service.
Residential Pest Control Owasso Oklahoma
It happens, finding rodent droppings on your desk in your office. Someone complains that there are ants in the breakroom. The guys in the receiving department see a wasp's nest near the loading dock. Don't risk employee safety by keeping a container of insect killer around the office. If you have clients coming in and out of your building, seeing insect spray and mouse traps doesn't make a good impression. The most dependable Pest Control in Owasso is Thrive Pest Control. Our company is unique in that we service both residential and commercial properties for multiple pests. It is important for your employees to not only feel safe but be safe. Our technicians are trained to eliminate bugs and rodents regardless of the square footage or the number of stories in your building. The structure may be bigger but, our level of thoroughness of services remains the same. We will visit your property at a time convenient for you and your staff. Our service providers will meticulously inspect your property and present a plan for getting rid of your problem. Just as with a homeowner, we will make suggestions and recommendations to keep the pests from returning. It might be as simple as emptying the wastebaskets more frequently. Cleaning storage areas may lead to fewer infestations. We will talk with your employees as to what and where they have seen pests.
Pest Control in Owasso doesn't have to be a struggle. At Thrive Pest Control, your family and employee's comfort and safety are our first concern. We will eliminate your pest problem quickly and safely. Don't take a chance of someone getting stung or bitten. Thrive Pest Control not only eradicate the problem but can help you prevent them from coming back.